For those who are not yet convinced of the beautiful sights and fun activities on offer in Spain, here is a teaser of some highlights the country has to offer. Those who do plan to travel here or are in Spain currently, read on to find out more about these highlights and the know-hows.
1. La Sagrada Familia
Image Source 
Located in Barcelona, is a masterpiece of the inspirational architect Antoni Gaudi. Despite being under construction after more than 130 years, it still attracts 2.8 million visitors a year and is the most visited monument in Spain. If you visit one site in the eclectic Barcelona, make this the top of your list.
In order to enter the extraordinary Sagrada Familia cathedral, a ticket must be purchased which range from €15-29 depending on whether you would simply like to enter, have an audio tour or a guided tour. Prices are also cheaper for students and free for children under 11 years old. Once in the cathedral, it is worthwhile to note that shouting and running are not respectful in this place of worship. It is also important to be covering knees and other suggestive areas of the body, as you would in a temple or church.
Quick Tip: Order your ticket online beforehand to save some Euros and avoid the queues outside the cathedral which can get lengthy.
SuiteLife – Sagrada Familia, Lonely Planet
2. The Alhambra
Delve into Moorish Spain with a visit to this ancient location, meaning "Red Castle" in Arabic, a highlight of Granada in the south of Spain. The first historical documents known date back to the 9th century. An ancient palace and fortress, now part world heritage site, enchanting many a visitor with it's medieval architecture and a view spanning the entire city.
Tickets to the fortress and castles are limited, so it is advised to book ahead online which can be done here and the maximum number of tickets is 10 (except for authorised travel agents). It is advised to arrive earlier than your allocated time even with a pre-purchased ticket. Tickets are around €21 (discounted prices can be around €15), children under 12 years may enter for free.  The columns and decorations should be respected and not touched and no eating or drinking other than in designated areas.
Quick Tip: Book a ticket in quieter months, avoiding the height of summer and major holidays if possible.
The Alhambra Granda, Lonely Planet – Alhambra
3. El Camino de Santiago
The Camino (walk) is the most popular of the pilgrim's walks in the Northern part of Spain, through the Basque regions, and the longest in Europe. For more than a thousand years pilgrims have trekked the high plains of Castilla and Galicia, some for religious reasons and others for more spiritual ones. Passing through years of architectural history and UNESCO world heritage sites on foot. The walk typically starts around the north of France in Saint Jean Pied de Port, some may start around Pamplona in the north of Spain, and culminate at the famous Santiago de la Compostella in the western part of the country.
The requirements for this incredible experience is your essential pilgrim's credential or credential del Peregrino. You can get this Pilgrim's passport for €1 at any town on the route, which means you can begin your way at any starting point. You can also obtain this passport at any Amigos del Camino de Santiago (Friends of the Way of St. James) associations which are spread all over the world.
The passport will be stamped at each stop's Albergue (like a hostel) along the walk and is used as a track of each location you have walked through. This is also needed to receive the Compostela, a certificate of completion at the Santiago Cathedral. To qualify, you must have walked or ridden a horse at least 100km or cycled at least 200km of the Camino.
Quick tip: Some golden advice is to stick to the rule of your pack being no heavier than 10% of your body weight. This should save some extra aches on the way.
Camino del Norte, Camino Adventures, Camino etiquette
4.La Tomatina
We all love the look of getting dirty in the tomato mush of the world's biggest food fight, La Tomatina! The festival is held on the last Wednesday of August each year in Bunol, near Valencia. A strong tradition in Bunol since 1944 or 1945, with possible theories of how it began as a food fight between friends or a bombardment of tomatoes at a carnival parade. The official start of the food fight is a firing of water cannons and the tomato-throwing chaos commences for one hour.
The rules are, tomatoes must be squashed before they are thrown, do not bring bottles or hard objects which can hurt people, do not rip other people's t-shirts, keep a safe distance from the lorries and as soon as you hear the second shot, you must stop throwing tomatoes.
Since 2013, tickets have been limited to 20,000 as numbers were known to rise to 50,000 previously. Book your tickets here to get a place and bring out your inner child and enjoy. As Bunol's population is normally 9,000, many people book accommodation in nearby Valencia, 38kms away.
Top tip: Keeping your t-shirt tucked into your shorts helps keep a part of your shirt clean for wiping off tomato splattered eyes! 
La Tomatina, La Tomatina Tours, Tomatina tickets
5. Ciudad de las Artes y las Ciencias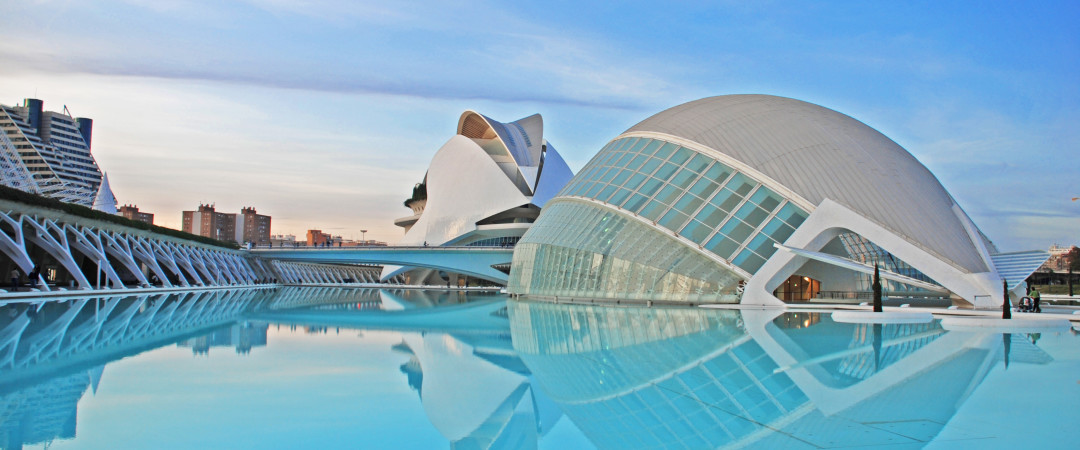 Image source
Since Valencia diverted the flow of their river which continually flooded the area, what remained was a wide and flat river bed giving room to the future home of renowned architect Santiago Calatrava's work and creating the Ciudad de las Artes y las Ciencias. Now home to museums, art venues and Europe's largest oceanographic aquarium, L'Oceonografic, in the shape of a water lily.
It is recommended that large groups purchase tickets in advance, some discounts may apply. Tickets can be purchased at the door outside of high season, holidays and weekends.
6. Dining
One aspect of Spain which some foreigners find difficult to accustom to is the dinner times, which are typically late, between 9-12pm. Do not be frustrated if you find a restaurant is not open before 8 pm. Never fear, when they are open and buzzing, your choice of food is spectacular. From the tapas famous in Barcelona to Paella originating in Valencia and delicious seafood all the way up to the Galicia region in the Basque country.
For those who like to light up a cigarette before or after a meal, since new laws have passed, no smoking is allowed in public areas, not even the outside of restaurants. Smokers are advised to find a quiet pedestrian corner for this which should be relatively easy to locate.
Spain Attractions, The Olive Express
7. Shopping
Spain has a variety of shopping opportunities, from huge modern shopping areas such as Barcelona's La Maquinista to the quirky individual shops and studios in the Gotic area, creative artworks, and crafts on La Ramblas and extensive fresh fruits and delicacies at La Boqueria. One thing to note is shops tend to close between 2-4/5pm, the "siesta" tradition is still kept alive, for want of a better word. Do not be frustrated or surprised if the store you planned to visit is closed or if it is still shut outside the listed opening hours. Simply patiently enjoy the relaxed vibe of Spain.
Another aspect to note is respectable dress code around the city, especially in shops. It is important to know that bikinis and swimwear are specifically for the beach, it is not quite Rio de Janerio on the streets of Spain and you are expected to be decently dressed (this probably stems back to religious reasons).
Now that we have given you a taste of the beauty and offers available in Spain, you may be considering a visit or to even stay and work in this beautiful country. If so, you can find out information about residing in Spain and even working here in our other featured articles, Creative ways to reside in Spain, #How to obtaining a work permit in Spain and #Howto Start your own Business. Let us know any of your thoughts in the comments below.
Other sources: Lonely Planet, Spain Attractions, Hand Luggage Only